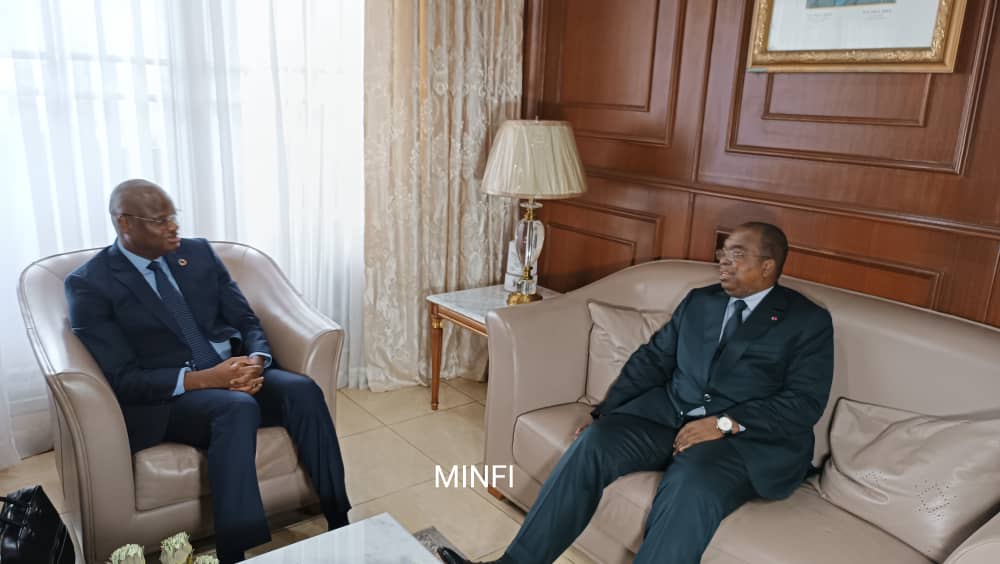 The Resident Representative of the United Nations Development Program in Cameroon, Aliou Mamadou Dia, was on June 5, 2023, received in audience by the Minister of Finance, Louis Paul MOTAZE. Coming from the tete-a-tete, the Resident Representative said that they talked on a wide range of issues, owing to the long standing collaboration between Cameroon and his Organization. Mainly, the financing of development projects, the integrated financing for development approach, three of it under MINFI, which he believes there are already good results so far.
Another area of their discussion focused on inclusive financing, with emphasis on how the most vulnerable population in rural areas can access it, as well as a financial mechanism, through which they can have access to financial scheme and mechanism which will enable them run their own businesses there by contributing to local development.
Also was the issue of Youth entrepreneurship, which the Resident Representative wanted to be certain on the means set up by the government to fully support Youth employment. Such that those youths willing to set up businesses could tap from the resources with commercial banks. That both parties will work together to enable youths gain access to finance with affordable guarantee to support. He went further that they talked on the Recovery Program in the North West and South West, which is one of their flagship program, where UNDP is engaged at the implementation part with the government to, deliver, recovery and beyond delivery with the government in that part of the country. And that for peace to be achieve, development need to be carry out. He concluded saying that MINFI can count on UNDP and the entire UN System to achieve the SND30 particularly on the Sustainable development goals 2030.